**Venture into Avian Wonders: The Inside Rainforest Birding Tour**
Discover the allure of Guatemala's birdlife with our "Inside Rainforest Birding Tour." This adventure takes you into the heart of Central America's most diverse bird habitats, giving you an intimate glimpse into the region's avian wonders. The journey brings you face-to-face with various bird species, their intriguing behaviors, melodic songs, and their crucial roles in the ecosystem.
**The Flores' Feathered Residents**
We set out from Flores, renowned for its vibrant bird species. As we traverse through this scenic route, we encounter numerous birding opportunities. This experience is more than just spotting birds; it's about understanding them, their environment, and their interactions.
**Unveiling Las Guacamayas Station's Mysteries**
Upon reaching Las Guacamayas Station, we are welcomed warmly by the EBG staff, followed by an insightful orientation about the station's activities. Here, we spend time exploring the base station, with panoramic views from the Las Guacamayas lookout, punctuating our experience. Furthermore, a boat ride along the San Pedro River adds another dimension to our adventure.
**Encounters with the Scarlet Macaw at El Peru**
Next, we delve into the El Peru Archaeological Site, a significant nesting area for the stunning Scarlet Macaw. Here, an enchanting nighttime aquatic adventure awaits, unveiling the region's nocturnal creatures, adding a thrilling twist to our expedition.
**Discovering the Tikal National Park's Avian Marvels**
Our tour's pinnacle is exploring the Tikal National Park, a significant Mayan civilization and biodiversity reservoir. Here, we spend our time identifying various bird species and reveling in the captivating spectacle of sunset birding. The park offers the exclusive opportunity to spot species such as Ocellated Turkey, Orange-breasted Falcon, Yucatan Jay, and the elusive Black Catbird.
**Wrapping Up with Flores**
Lastly, we return to Flores, completing our immersive rainforest birding expedition. Our expert guides ensure a well-rounded and enriching birding experience throughout this journey. So, why wait? Immerse yourself in Guatemala's rainforest and experience a bird spectacle like never before.
Day 1: The Adventure Begins – Las Guacamayas Station
Our journey commences at 5:00 am. We'll leave Flores and head towards our destination, a trip of approximately 3 hrs. The road is not just a route; it's an opportunity for birding, with open areas, secondary forests, and ponds to spot various bird species.
Upon reaching the community of Paso Caballos, we'll switch gears and board a boat. This boat ride, lasting around 20 minutes, will take us through the San Pedro River to Las Guacamayas Biological Station, with more birding on the route.
After a warm welcome from the EBG staff and a brief introduction to the station's activities, we'll dive into a birding tour around the base station, concluding at Las Guacamaya's lookout. After a long day of discovery, a well-earned dinner and rest await at the Las Guacamayas Lodge.
Day 2: The Hidden Beauty – El Peru Archaeological Site
Another day dawns, and we kick-start at 5:00 am with a cup of coffee, ready for a birding tour. This tour will lead us to the archaeological site El Peru, a significant nesting area for the scarlet macaw, especially from February to May.
As the night falls, prepare for an exhilarating nighttime aquatic excursion. Equipped with flashlights, we'll navigate the stream Sacluc, unveiling the mysteries of the night dwellers like the crocodile petenero (Crocodylus moreletii), bats, birds, and more.
Day 3: Historical Majesty – Tikal National Park
We'll start our birding tour through the biological station at the crack of dawn before heading to the Tikal National Park. Sunset Birding at the park, surrounded by historic beauty, promises an experience.
Day 4: Unfolding the Mysteries – Tikal National Park
The day will commence with an early birdwatching tour in the heart of Tikal National Park. Apart from the preserved monuments that testify to ancient Maya culture, the park is also a hub for diverse bird species, making it an ideal location for birdwatching.
From the Ocellated turkey, orange-breasted falcon, Yucatan Jay, and Black Catbird to the Rose-throated Tanager, Great Curassow, and White-fronted Parrot, you'll have a chance to spot various fascinating species.
Day 5: Wrapping Up – Flores
On our final day, we'll continue birdwatching around the park before heading back to Flores, marking the end of our journey. Our services conclude here, but the memories and experiences you've collected will remain with you forever.
DEPARTURE / RETURN LOCATION
All lodging at mentioned Eco-lodges or similar
All meals
All private ground transportation
Boat transportation at Las Guacamayas Station
Birdwatching specialized tour guide full time
Reserve and parks entrance fees
Taxes
International Flights
Tips & Gratuities
Non specified services
Alcoholic beverages
Resume
Day 1: Las Guacamayas Station
Day 2: El Peru Archaeological Site
Day 3: Tikal National Park
Day 4: Tikal National Park
Day 5: Flores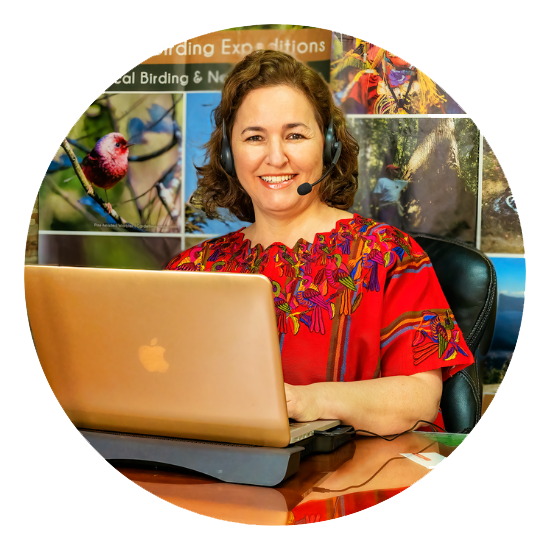 Talk To A Travel Advisor
GT: (502) 7832 2742
US: (305) 395 3935
Guatemala Endemics
12 days 11 nights
This tour is a mixture of the best destinations in Guatemala including the best locations to appreciate endemic bird species.
Highlands & Mayan World
15 days 14 nights
We will visit Guatemala's center highlands (Mountain Forest) and Peten (Tropical Rainforest) in Guatemala's lowlands.
Nature & Culture
11 days 10 nights
This adventure expedition will take you through important wildlife and cultural destinations  including Antigua, Atitlan, Chichicastenango…